Cabañas
We always thought cabañas would be the only accommodations we would build. Our thought was that they should be charming and comfortable enough to spend a day in, and not just for sleeping. There is almost 400 square feet to move around in and they are uniquely decorated with items from our travels.
Here are our Rates and Reviews.

All our cabanas have high grass roofs and screened windows all around as well as a fan for the few warm nights without a breeze. And for the cooler months, a cozy duvet will keep you toastie warm. Of course the good mattresses, quality cotton sheets, bath and hand towels go a long way to make you feel comfortable too.
The cabanas are nestled in the woods; orchids and bromeliads abound and the calls of parrots, Yucatan jays, toucans and others will be your evening entertainment and your morning alarm clock. Parking is nearby, free, far from the entrance and well lit for night time returns from your trek. Pathways are softly lit all night and are concreted to keep your feet cleaner in the rainy period.
Every  cabaña has its own screened in porch as well as a private patio, chairs and table. You can look up through the trees at the amazing stars or enjoy a cool beer after a long day of sightseeing. For your mornings, there is a coffee maker and fresh coffee, purified water, sugar and milk to start you at your own pace.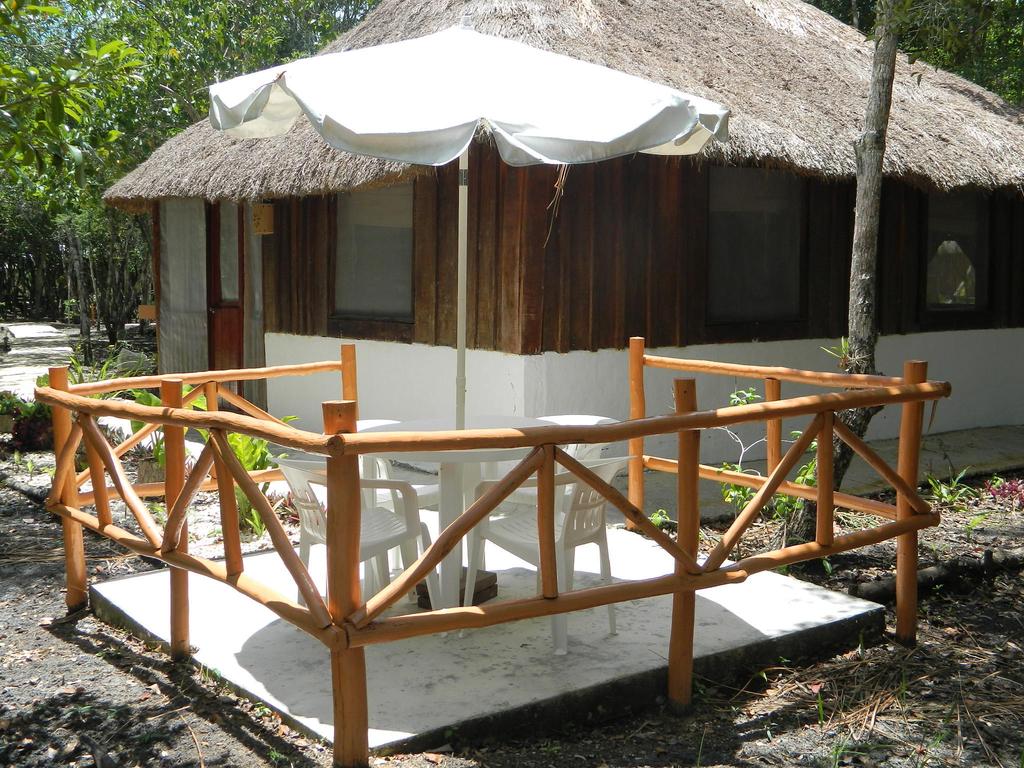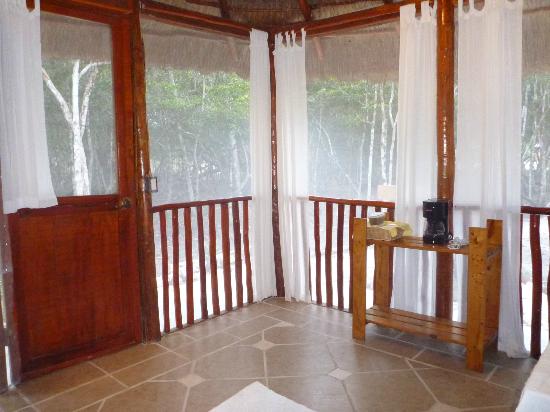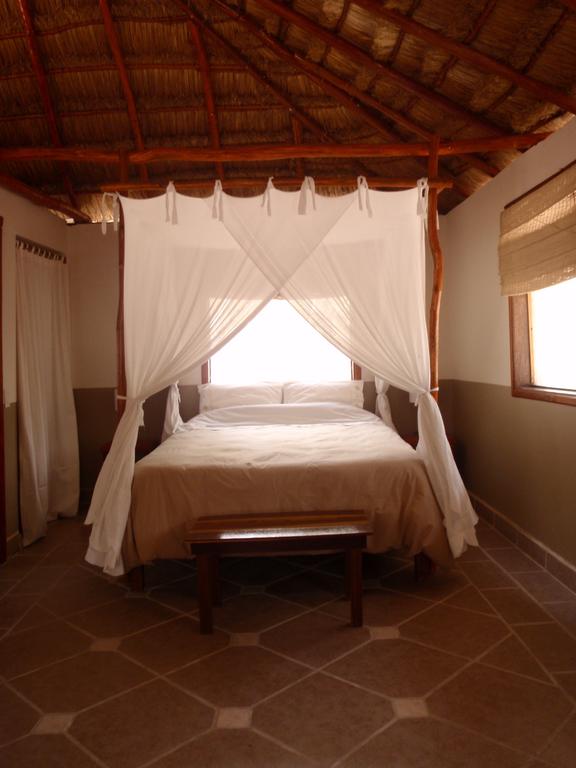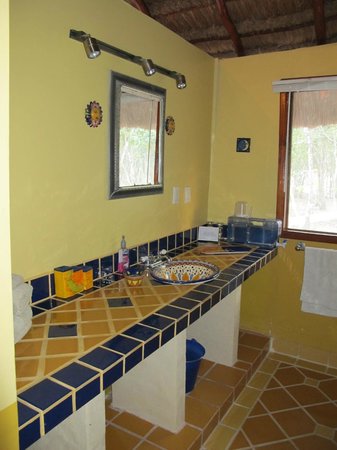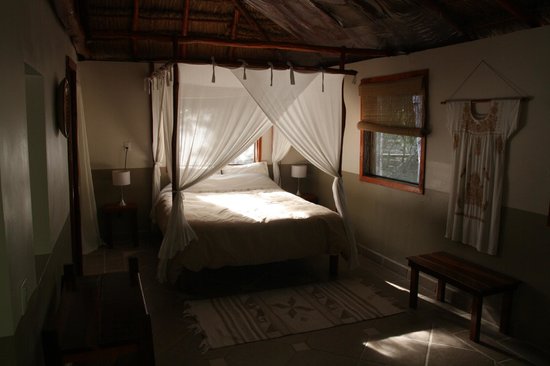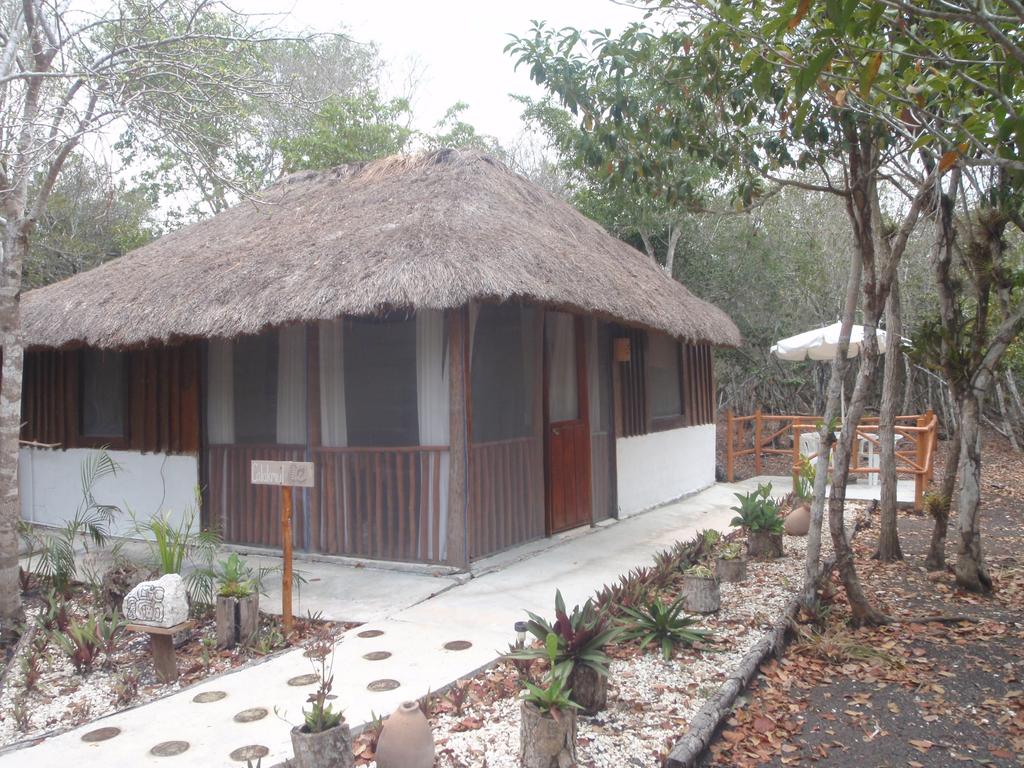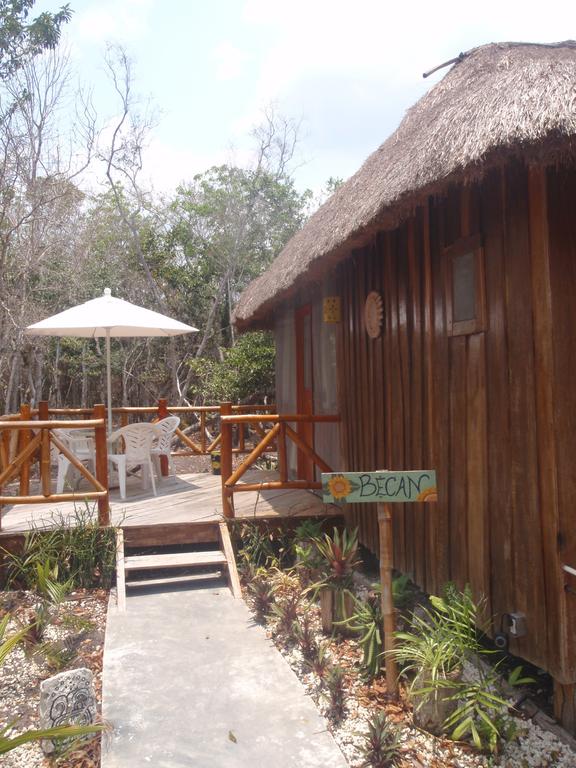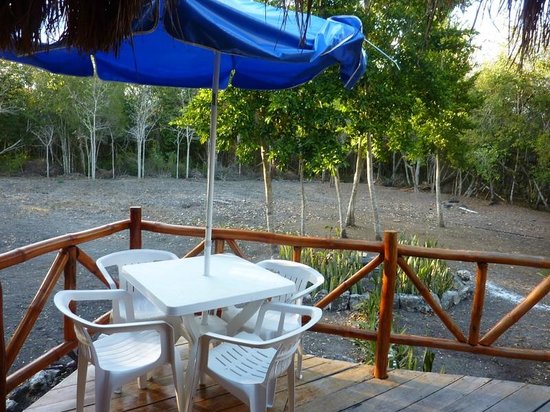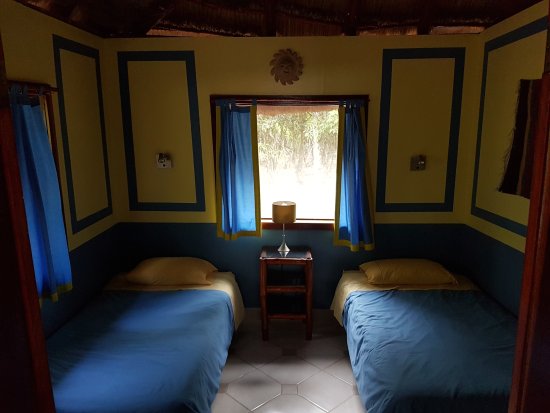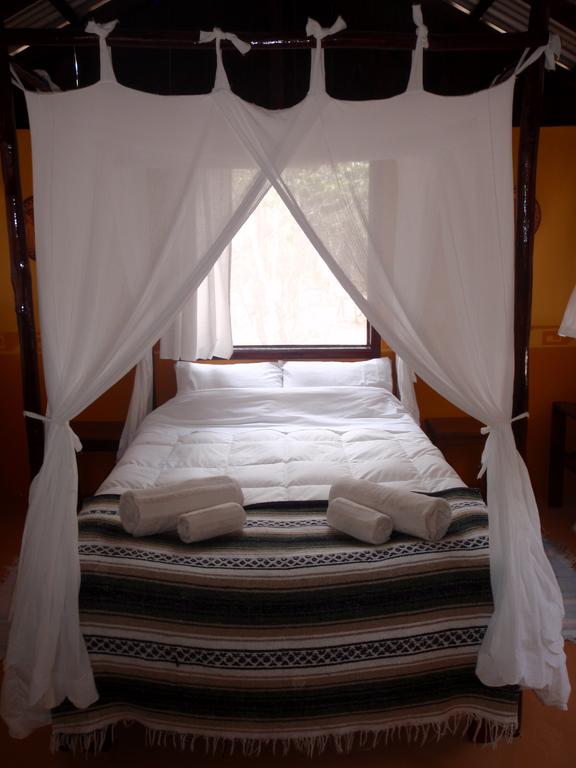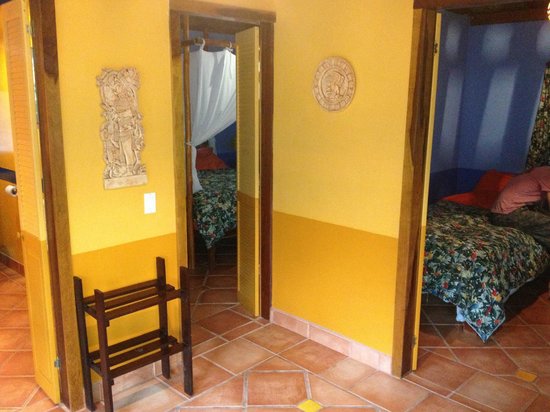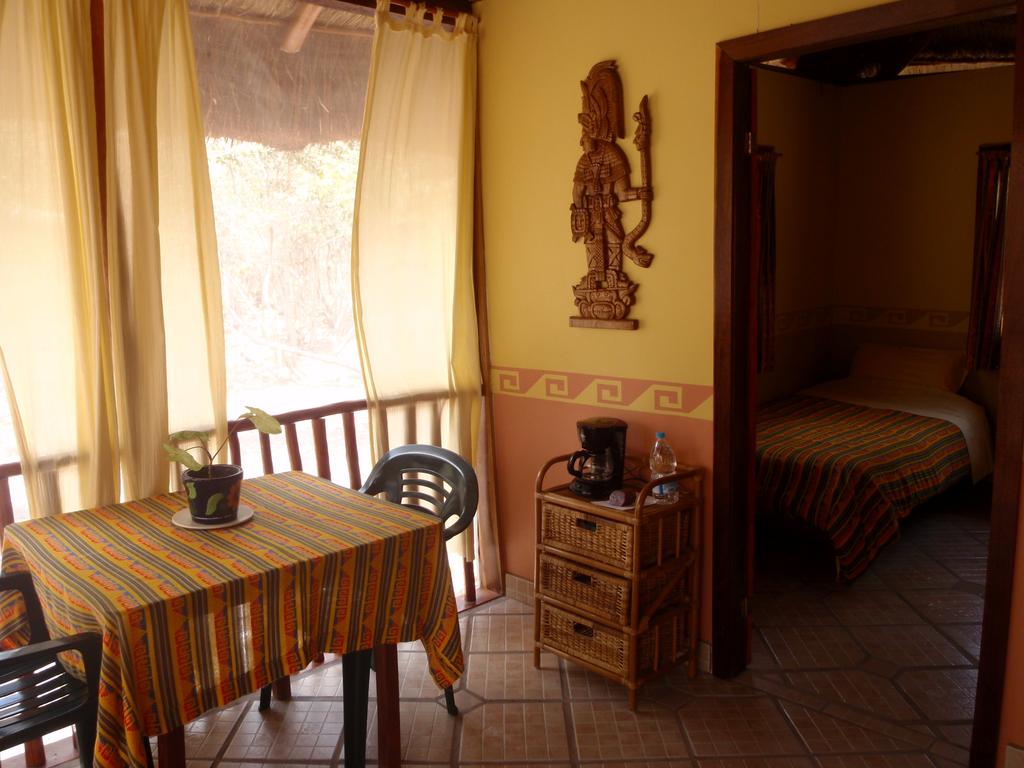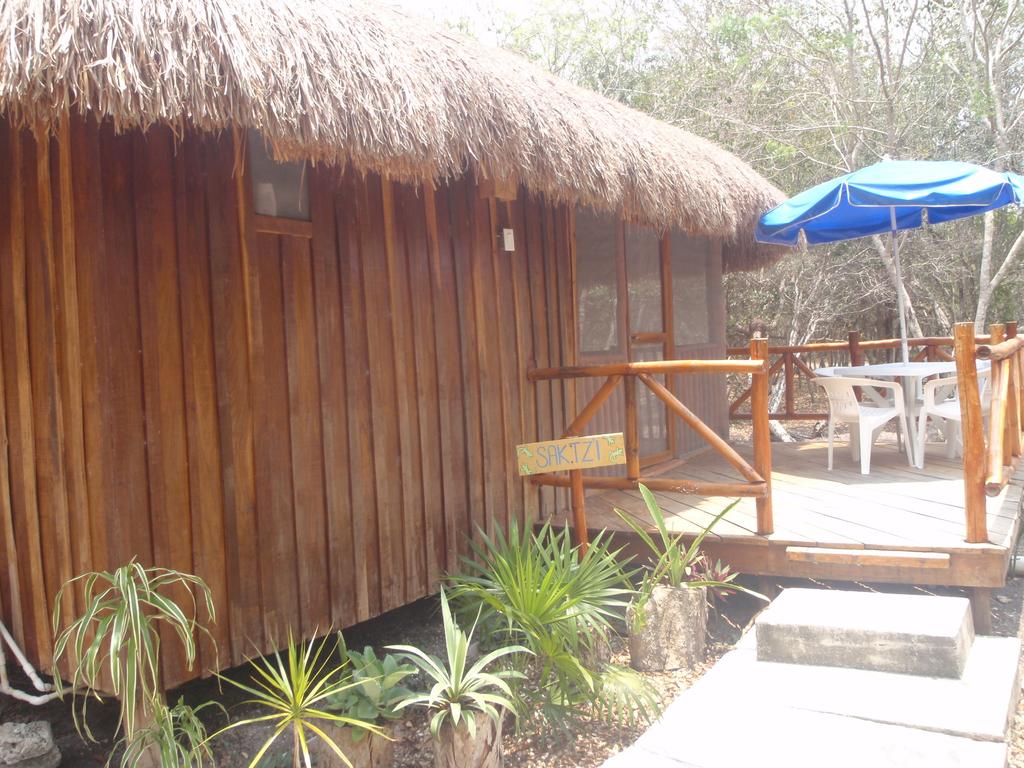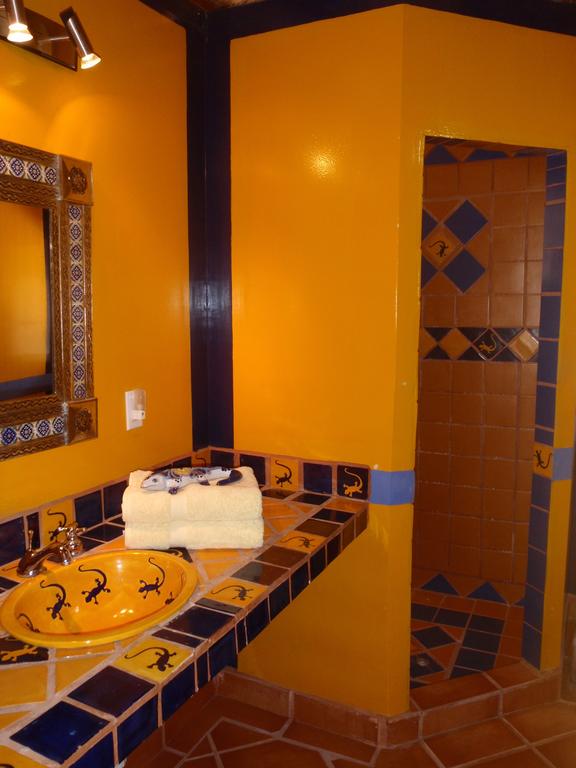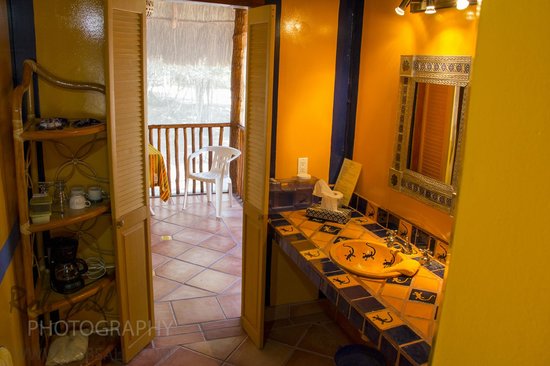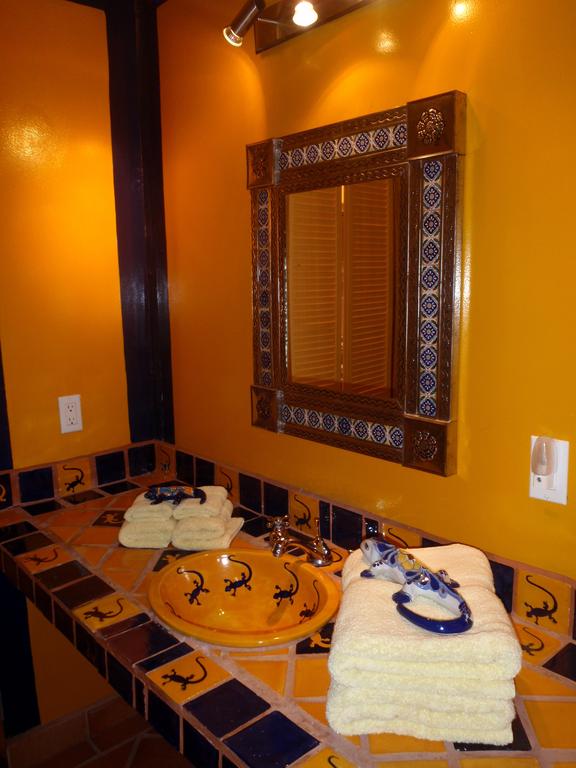 Cabaña Calakmul
Calakmul was our first cabaña and was designed on an open concept. It can sleep 3 with a queen size bed plus a single. The bathroom is fully tiled with a hand painted ceramic sink, and a good sized shower. The screened porch gives a lovely inside place to sit and read at night. As with all cabanas, there is a coffeemaker, purified water and netting around the queen bed. This will suit a family of 3.
Our cabañas: Becan
Becan was built for families, it has 2 bedrooms. The master bedroom has a queen size bed with netting and the second bedroom has 2 single beds. There is a fan for each room. As with all  cabaña  , there is a coffeemaker, purified water and a screened porch. In addition there is a large patio deck complete with table and chairs for sitting out enjoying the surrounding forest. The washroom has a hand painted ceramic sink and a lovely tiled shower and counter. This is ideal for a family of 4 or 2 couples travelling together. If needed, a cot could be put in to hold another small child.
Our cabañas: Sak Tsi (White Dog)
Like Becan, Sak Tsi was built for families and is the same 2 bedroom design. Again the queen bed has netting around it and there is a fan in each bedroom. There is a coffeemaker, purified water and a screened porch. The washroom has been tiled around some gecko tiles we fell in love with and its yellows and blues are fun. Even the sink has the little mosquito eater theme. Outside the patio deck overlooks a small clearing facing northwest, a lovely spot for stargazing. Sak Tsi is ideal for a family of 4 and like Becan, will support a small cot for a 3rd child. Also of course, it works well for 2 couples travelling together.
Amenities
Daily Housekeeping
Terrace
Screened Porch
Outdoor Table
Private Bath/Shower
Coffee Maker
Tea/Coffee
Four Poster Bed
Electric Fan
Duvet
Egyptian Cotton Linen
Fluffy Towels