Kohunlich ruins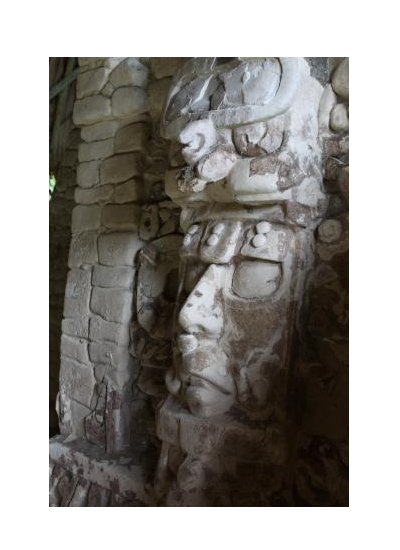 The popular Classic Maya site of Kohunlich (with its giant Early Classic stucco masks) is an easy drive from Rio Bec Dreams Hotel and makes a great day trip when combined with the ruins of Dzibanche and Kinichna just across the highway.
Early Classic Mask
Kohunlich was "discovered" only in the last forty years.  SInce then it has become a popular destination because of six, large well-preserved Early Classic masks depicting Maya kings or the Maya Sun God, Kinich Ajaw. The eyes of the masks all carry the "sun sign". In addition, they all face west, to stare into the setting sun – an unusual and picturesque alignment of a Maya temple front with masks, each sitting on a different level of the pyramid. Some are 8 feet tall.
The site itself is large, with numerous plazas, residences, pyramids and a large ball court. Nowadays all of it is surrounded by well-manicured lawns and INAH signs. The ruin is named after the numerous cohune palms which contribute to the tranquility and beauty of the setting, atop a scenic ridge: Kohunlich ("Cohune Ridge").
It is especially recommended that you see the masks, the Temple Of The 27 Steps, the Ball Court and the residences, enjoying the ambiance as you stroll.
Useful information when you visit the ruins of Kohunlich
Distance of Kohunlich from Rio Bec Dreams: 80kilometers
Driving time to The Kohunlich site: 1 hour
Opening hours of Kohunlich ruins: Regular, 8am to 5pm 7 days a week
Entrance price per person: 55 pesos
Combine a visit to Kohunlich ruins with a visit to Dzibanche . In the next two years, you may also be able to visit the great Preclassic center of Ichkabal. The location is just north of Dzibanche.