About Us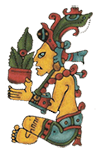 In 1998, on a cold winter's night in Ontario, Canada, we sat in front of the fire talking about the Mayan cities we had visited and fallen in love with. Both of us had finally grown old and smart enough to want to get out of the cold weather. We had had our careers and were ready for another challenge. The Rio Bec area with Calakmul was almost totally untouched and was to us a new frontier. We loved visiting, but there wasn't a good hotel we wanted to stay in for any length of time; so we thought, why not buy some land near Becan – our favourite site – and build one?
This idea became our Rio Bec Dream. We got lucky and in July, 1999 found some land in the Calakmul Biosphere Reserve. To this day we are still the only hotel in the Biosphere. Our dream has evolved rather than kept to a plan, and we have made it as inviting and romantic as we could while still respecting the nature of the forest around us.
Underlying it all was our personal commitment to entertain and to make others feel as comfortable as we like to feel when we travel. Safety, hospitality and good food were and are the main ingredients we teach our staff. We happily share the knowledge we have picked up on our excursions and try to help with whatever needs we see our guests have.
Rio Bec Dreams is ideally situated for exploring the many sites of the Rio Bec and Chenes regions of Campeche State. In just 10 minutes, you can be at the archaeological sites of Chicanna, Becan, and Xpujil. In just 20 minutes you can be at the road to Calakmul. Not only that but you are able to visit Kohunlich, Dzibanche and Kinichna – and be back in time for dinner.
But of course, we are not perfect. We cannot offer high speed dependable  WiFi. A cellular signal is usually available at the bar. We are in the jungle and cannot guarantee you a bug-free room. Nor can we promise that the night noises from the birds and the traffic will not affect your sleep. As a rule Mexico is noisy, so if you are a very light sleeper, bring earplugs. We do not have air conditioning in the rooms, although almost every night the temperature drops and the fans will keep the air moving for you. If your ideal hotel room is a concrete room with AC and a staff that does not interact with you, perhaps another hotel would be better suited.
We are happy to recommend local restaurants or supply picnic lunches for your day trips. For locations farther away, we can suggest itineraries and hotels to make your explorations trouble free.